Online Safety
Online safety is of paramount importance at St. Mary's. All staff are trained in necessary Safeguarding and Child Protection procedures, including recognising the potential risks that modern technology can present to our pupils and the responsibility we hold to educate them about accessing modern technology safely.
Pupils at St. Mary's benefit from ongoing learning about using technology responsibly, but have also experienced expertly led online safety lessons provided by a leading child protection company www.ecplimited.com
Partnerships with parents around online safety education is crucial; we invite parents and carers to attend online safety workshops to help advise on the best ways to safeguard their children.
Click here to view the parents' evaluation of workshop held on 9th April 2016
CLICK TO ACCESS ONLINE SAFETY PARENT WORKSHOP MATERIALS 2016
Comments from children about Online Safety Workshops - April 2016:
'We found out new information which will help us keep safe...
Ashley reminded us about things we have learnt before but forgotten...
We found out how massive the world wide web is and how many people we are playing games with or watching videos with...
He made us think of stranger danger-if you wouldn't talk to someone in the park, then why would you talk to them on your computer...?
We need to remember that when we are on the computer we are still in the real world...
We learnt that not everyone follows the golden rules and people aren't always honest or good...
We can take control-we shouldn't let people upset us-we are all responsible for our own actions.'
For further advice and tips on Online Safety, click on the following links.
Think u Know CEOP - Child Exploitation and Online Protection Centre Kidsmart
Sites, Apps and Games - Info for Parents NSPCC - keeping your child safe online
: http://www.childinternetsafety.co.uk/ - impartial, parent-friendly advice on the best protection, software and gadgets
Parents' Guide to Instagram: http://www.connectsafely.org/wp-content/uploads/instagram_guide.pdf
Cartoon clips about sharing info online www.nspcc.org.uk/preventing-abuse/keeping-children-safe/share-aware/
A guide to site, games, apps and social networks https://www.net-aware.org.uk/
NEW: November 2017 Guide to Online Gaming for Parent's https://www.internetmatters.org/advice/online-gaming/
NEW: November 2017 Good Gaming Guide for Parents http://www.pegi.info/en/index/id/media/pdf/241.pdf
Click here to view November 2017 Guidance for Parents on Films, Video Games and Apps
Click here to view our Online Safety policy
Click here to view October 2016 Online Safety newsletter
2016 E-Safety Workshops for Children and Parents - Newsletter
10 Top Tips for Staying Safe Online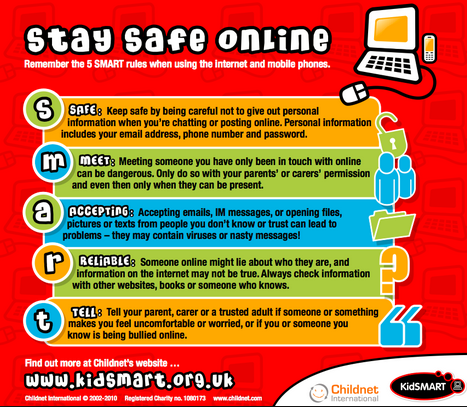 Click on the image above to access more information